Every kitchen needs a solid cookware set, and your Airbnb kitchen is no different. Having a proper cookware set is a key element in making your AirBnB kitchen look and function at its best. As an Airbnb Superhost, I can tell you that most guests appreciate and praise a well-stocked kitchen that has quality pots and pans.
While not all guests need cookware, having suitable pots and pans for guests that enjoy cooking their own home-cooked meals will go a long way – making for happy guests and 5-star reviews. However, with so many pots and pans available, it can be difficult to pick a set that will accommodate and satisfy all your guests' needs.
So today, I'm sharing my picks for the best pots and pans for your Airbnb.  From my favorite durable Non-Stick T-Fal 12 Piece Cookware Set to the Stainless Steel Tools of the Trade Cookware Set, you are guaranteed to find one that is perfect for your Airbnb kitchen. 
This post may contain affiliate links, which means I will earn a small commission if you purchase through my link. Please see the full disclosure and privacy policy for more information.
Top Pots And Pans For Airbnb
Here is a quick look at the best cookware sets for Airbnb:
Best Cookware for Vacation Rentals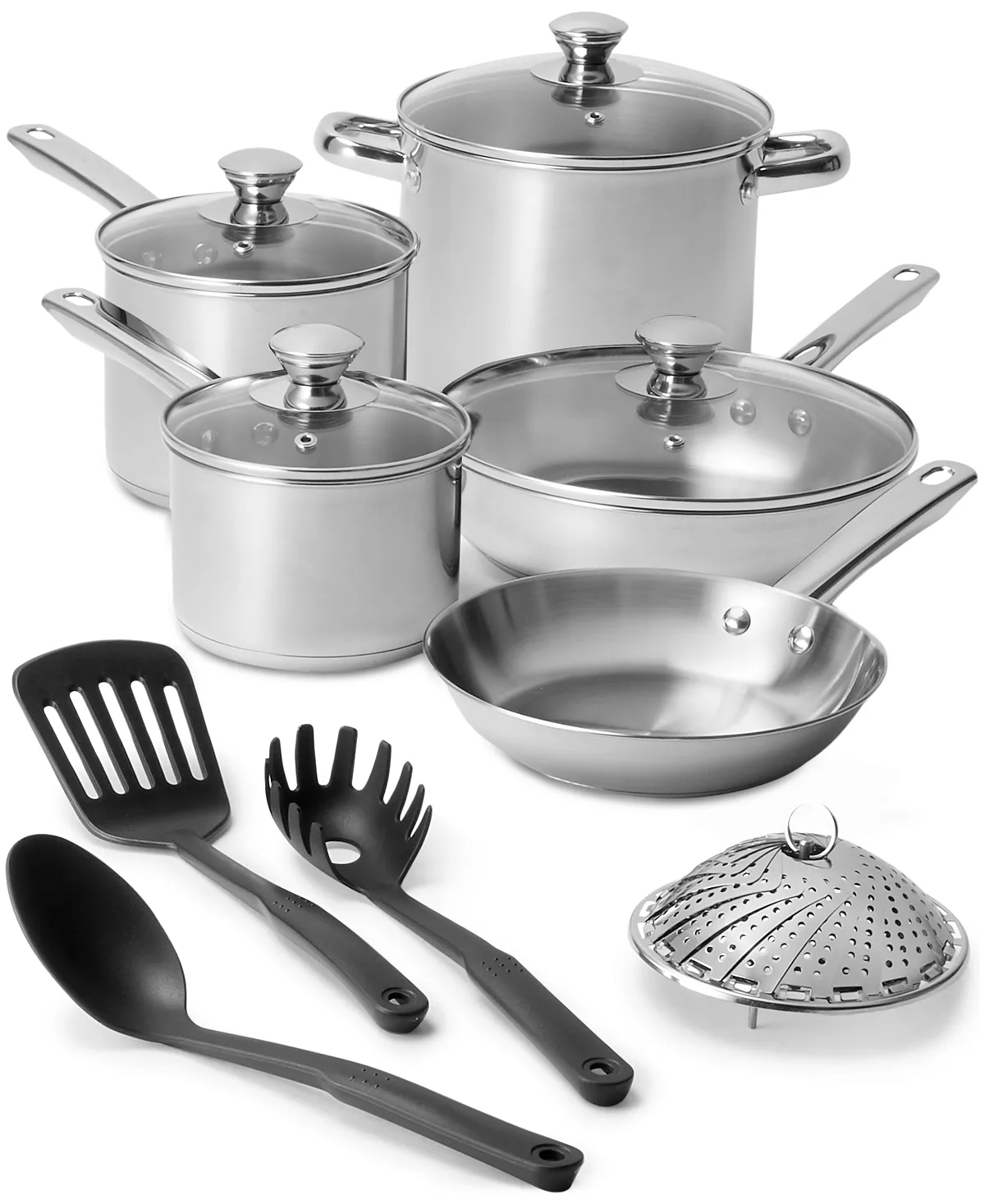 The Tools of the Trade Stainless Steel Cookware Set is only sold at Macy's. This stainless steel 13-piece cookware set comes with two (2) saucepans, a stock pot, a sauté pan, and a frying pan with supporting lids. It even has an added bonus of a flower steamer, large spoon, slotted turner, and pasta server.
This set is great for vacation rentals with a smaller kitchen and may not have a lot of storage and cabinet space. They are super lightweight but durable and easy to clean. My guests love them, and they often complement the size, which is perfect for guests with smaller groups and couples.
They go on sale quite often at Macy's for almost 50% off, so stack up and grab yourself a set or two just in case you need to replace it over time. It is worth every penny!
Everyone approves of the T-Fal Ultimate Hard Anodized Nonstick Cookware Set pot set, including the thousands of Amazon reviewers and Airbnb hosts who rave about it. The T-Fal nonstick cookware set comes with two (2) fry pans, three (3) Saucepans, a Dutch oven, lids for each pot, a solid spoon, and a slotted spatula.
This T-Fal set can handle high temperatures, distributing heat evenly, but it is not oven safe. It is, however, Dishwasher Safe. There's a really cool feature inside the pots where it turns red when they are preheated and ready to cook. This beauty will last a pretty long time, and your guests will love cooking with it.
Buy at Amazon
The Cuisinart Stainless Steel 11 Piece Cookware Set comes with three (3) saucepans with helper handle and glass cover, a stockpot, two (2) Skillets, and a Steamer insert. This large set has so many cookware options that it will be a guaranteed hit to your guests.
It has an aluminum encapsulated base that heats quickly but evenly distributes heat. The rims of the pot set are tapered, making pouring clean and easy. It also has excellent grip handles that won't burn you and is super easy to hold. And did I mention that it comes with a lifetime warranty? You can't go wrong with this high-quality set for your guests.
Buy at Amazon
The Caraway Cookware Set is stylish, modern, and practical. This high-performance ceramic-coated cookware set is aesthetically pleasing, making it an excellent option for luxury Airbnbs, themed Airbnbs, and Vacation Rentals with a particular design aspect.
This set comes with a 10.5" fry pan, a 3-quart saucepan, a 4.5-quart sauté pan and a 6.5-inch Dutch oven with a lid. It is oven-safe and dishwasher-safe and works well on gas, electric, and induction stovetops. Just an overall excellent product that your guests will love.
Buy at Caraway
Why should you have cookware in your Airbnb?
Having cookware in your Airbnb, Short Term or Midterm Rental is a great way to provide your guests with a unique and comfortable stay. Having cookware available for guests can be an investment that pays dividends in terms of both customer satisfaction and return bookings and an enjoyable cooking experience for guests.
By having cookware in your Airbnb, you can offer guests the convenience of being able to prepare their meals. It also speaks volumes about your attention to detail and hospitality as a host, making for a pleasant experience for some guests. Cookware can add a certain level of comfort for some guests by making them feel at home and having the option to prepare their own meals.
Having cookware in your Airbnb can give guests all that they need to make meals at home, rather than spending extra money on takeout or dining out. This could be quite a cost-saving benefit for both you, as an Airbnb host, and your guests. The cookware will help enhance the experience of cooking fresh meals and create a true feeling of being at home on vacation.
How to Choose Cookware for Your Airbnb
It pays to research beforehand when outfitting your AirBnB kitchen with pots and pans. Consider durability, heat retention, non-stick finishes, and compatibility with your stovetop and oven. A multi-purpose cooking set should include a stock pot, soup pot, sauté pan, saucepan (one large and one small), a frying pan or stir fryer, and all the proper lids and covers.
When shopping for quality cookware sets, you'll want to look for ones made from durable materials like stainless steel, aluminum, copper, or cast iron.
What is the Best Material for Pots and Pans
Each of these materials has advantages and disadvantages – stainless steel is lightweight but more likely to cause food to stick; aluminum is lightweight and conducts heat evenly, but it's not very durable; copper is the best conductor of heat, but it's expensive and requires more maintenance.
Cast iron is the most durable but can be heavy, making it tricky for guests to use on glass stove tops and hard to season and care for. Here's a more in-depth look at the type of pots and pans material:
Stainless Steel

– Stainless steel is a popular choice for pots and pans as it is very durable, won't break or tarnish easily, and will last a long time. They are also easy to clean and don't absorb any flavors from past use, making them ideal for those who cook with many different ingredients. However, stainless steel does not conduct heat well and so can be slow to cook evenly, making it less efficient than other options.

Non-Stick

– Non-stick pans are lightweight and easy to move around. They heat up quickly and release food easily, eliminating the need for added fat or oils while cooking. However, they also require extra care to prolong their life. Their non-stick coatings can be scratched over time with metal utensils, so wooden or silicone spoons are recommended instead. Non-stick pans should not be washed with abrasive materials, which can damage their surface.

Aluminum

– Aluminum is a lightweight and affordable material that heats quickly and evenly, making it ideal for cooking. However, aluminum reacts with acidic ingredients, causing discoloration in the pot or pan over time. Aluminum is also not as durable as other materials so it has to be replaced more regularly than cast iron or stainless steel. Most aluminum pots and pans are not dishwasher friendly and should be hand-washed with warm water and mild detergent to prevent further damage.

Copper

– Copper is a great conductor of heat, making it an excellent choice for cooking, particularly when preparing delicate sauces. However, copper cookware is expensive and requires special care. It has to be cleaned with gentle cleaning products as steel wool can scratch and damage the surface. Furthermore, acidic ingredients should never be used with copper since they can cause discoloration or tarnishing. However, the disadvantage is that it is high-maintenance because it needs to be polished frequently to prevent corrosion.

Cast-Iron

– Cast iron pots and pans are very durable and naturally nonstick (when seasoned correctly). They also have excellent heat conductivity and have been known to last for generations. However, cast iron can be challenging to clean, prone to rusting, and not dishwasher safe. It is also very heavy, making transporting from place to place difficult. Furthermore, cast iron takes a long time to heat up and retains heat after cooking. It requires wearing-in and re-seasoning for best results.
After much trial and error with many cookware materials, stainless steel and aluminum are the best materials for pots and pans for your Airbnb. They are the most affordable and durable and often come with non-stick finishes, making them easy to use. However, I keep a cast iron grill pan in all my rentals because some guests prefer them.
How to care for my pots and pans?
While pots and pans are necessary for your vacation rentals, some guests can be extremely hard on them. Your pots and pans might get abused, chipped, improperly washed with caked-on food, and even burnt, forcing you to replace them. That said, it's important to get not only the right pots and pans for your guests but also the proper cooking utensils that guests might use in the cookware.
Stay away from metal-like cooking utensils; instead, go for wood, plastic, or silicone utensils to avoid scratching your pots. Try to get dishwasher-safe cookware, as most guests prefer to throw the cookware in the dishwasher. If you don't have a dishwasher, leave out a nonabrasive sponge and dish soap and grab some Bar Keepers Friend Cleanser to help clean food off the pots and pans.
Even with all cookware safety and care measures in place, you may find that you will still need to replace your pots and pans over time. The replacement frequency will significantly depend on the type of cookware and its use by your guests.
I hope you have found this article useful. The right cookware can greatly impact a guest's stay. So do yourself a favor and grab the best pot and pan set that money can buy for your Airbnb and Vacation Rentals.
Other Airbnb hosting ideas you might like:
Please comment below to let me know what you think of this article. Feel free also to follow me on my social media pages – Pinterest and Instagram or subscribe to my mailing list for other design inspiration, DIY projects, and home decor ideas.
Tamara White is the creator and founder of The Thrifty Apartment, a home decor and DIY blog that focuses on affordable and budget-friendly home decorating ideas and projects. Tamara documents her home improvement journey, love of thrifting, tips for space optimization, and creating beautiful spaces.