Finding the right coffee maker for your Airbnb can be challenging and tricky. There are a number of things you will need to consider when choosing a coffee maker, including the size of your space, the preferences of your guests, machine quality, simplicity of operation, and budget. As an Airbnb Superhost, I know firsthand how difficult it can be to find the perfect coffee maker that pleases every guest. But it doesn't have to be.
So, if you are an Airbnb host or Vacation Rental owner on the hunt for the best coffee maker for your guests, look no further. Whether you're after a coffee machine that can make one cup of coffee at a time or a more advanced machine with multiple options, there are plenty of coffee makers to choose from. 
We've rounded up the six (6) best coffee maker for Airbnb that will suit any budget, style, and need. My top picks are the budget-friendly Mr. Coffee 12-Cup Programmable Coffeemaker and the super stylish Beautiful 14 Cup Touchscreen Coffee Maker by Drew Barrymore. That said, check out our list of the best coffee makers for your rental property.
This post may contain affiliate links, which means I will earn a small commission if you purchase through my link. Please see the full disclosure and privacy policy for more information.
Top Coffee Makers For Airbnb
Here is a quick look at the best coffee makers for Airbnb:
Best Coffee Makers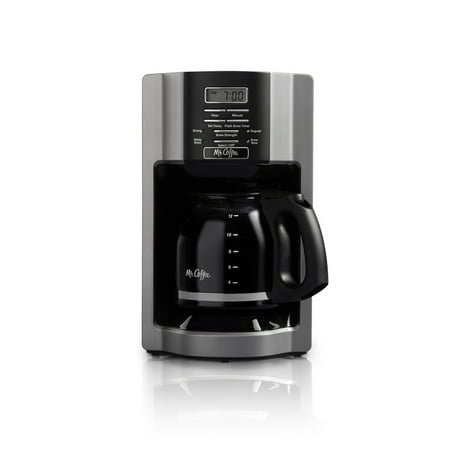 The Mr. Coffee Rapid Brew Coffee Maker is an excellent choice for Airbnb hosts due to its versatility and durability. This modern coffeemaker brews a full pot of delicious coffee with its rapid brew function. Guests can choose their desired flavor intensity or program the coffee maker to prepare their cup of joe in advance so it's hot and fresh when they wake up. It also has a removable filter basket and glass carafe for easy cleaning.
The Brew Strength Selector lets you customize your cup for bolder flavors, while the Push Button programmability allows you to program it for hot coffee in the mornings. It also has a freshness timer that keeps your brew at its most flavorful state and a removable filter basket for easy cleaning. With this coffee maker, guests will get to enjoy great-tasting coffee anytime.
Buy at Walmart
The Cuisinart DCC-3200 Coffee Maker is a great stainless steel coffee maker for Airbnb hosts who want a versatile machine that features an advanced brew timer and 24-hour programmability so you can have fresh coffee anytime. It also has adjustable temperature control and a self-clean setting for easy maintenance. Additionally, it boasts an automatic shutoff feature which ensures the safety of your guests. 
This machine lets you customize the flavor and temperature of your coffee with a brew strength control that allows you to choose between regular or bold flavor profiles. The Cuisinart 14-cup programmable coffeemaker is the perfect choice for Airbnbs looking to provide a great coffee experience! 
Buy at Amazon
If your Airbnb space is limited, or your guests are only there for a short stay, then a one-cup coffee maker may be the perfect pick. The Keurig K-Elite single-serve coffee maker will provide your guests with fresh, hot coffee in minutes – with just the press of a single button. Moreover, it's simple and easy to use, with minimal effort for maintenance. 
The Keurig adds a modern touch and appeals to a Vacation Rental kitchen. It allows you to customize your drink with five brew sizes- from 4oz up to 12oz- and strong Brew for a bolder taste. Even better, it can make iced coffee at the touch of a button, plus hot water for hot tea, cocoa instant soups, and oatmeal. 
It's the perfect fit for any Airbnb. Just be sure to leave out enough k-cup pods for your guests to have throughout their stay. 
Buy at Keurig
Buy at Amazon
The Hamilton Beach Two-Way Brewer Single-Serve and 12-Cup Pot is the best dual coffee maker for Airbnb and a popular choice amongst Airbnb hosts. This two-way coffee maker is a highly versatile and efficient coffee machine that is easy to use and program. This machine allows you to make both a single serving cup of coffee as well as multiple cups if necessary – perfect for when large groups of people need their caffeine fix.
This dual brew coffee maker comes with adjustable strength selections, giving you greater control over your final product. Clean-up is also a breeze with the easy-to-clean glass carafe and removable filter basket.
Additionally, the programmable timer lets you have your coffee ready when you wake up in the morning, and auto-shutoff helps conserve energy. With an attractive design and easy to use control panel, this is an excellent choice for any Airbnb host! Moreover, the auto shutoff function gives you peace of mind in case your guests accidentally overfill or forget to turn it off.
Buy at Amazon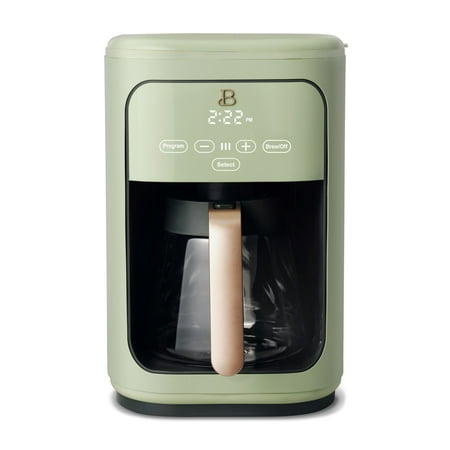 The Drew Barrymore Beautiful Coffee Maker has a sleek touch-activated display and can brew up to fourteen cups of coffee. Its super stylish design, modern silhouettes, and soft glow looks great in any kitchen.
It is the perfect choice for any Airbnb looking to provide delicious, flavorful coffee to their guests. With its easy-to-clean design and modern look, the Beautiful Coffee Maker must be on every AirBNB host's shopping list!
Buy at Walmart
For Airbnb hosts in need of a quality coffee maker, the Cuisinart Coffee Center is an ideal choice. This machine does the work of two appliances, combining a 12-cup carafe brewer with a single-serve side so you can serve either large groups or individual guests. 
This dual coffee brewer features adjustable brew strength control to tailor to each guest's preference and includes a reusable filter cup. The unique design also includes an energy-saving mode to ensure your coffee maker isn't using excess electricity while not in use and a removable drip tray that makes it easy to clean and transport. 
With its reliable performance and sleek design, your Airbnb guests can make and serve delicious coffee in no time! And the best part is that it comes with a 3-year warranty!
Buy at Amazon
Why should you have a Coffee Maker in Your Airbnb?
Having a coffee maker in your Airbnb can give guests the convenience of making their fresh cup of coffee without leaving the property. This can be especially helpful in the mornings when they are getting ready to start their day. This convenience is appreciated by many and will save your guests time and hassle by not having to hunt down a nearby cafe or coffee shop. 
Additionally, having a coffee maker in your Airbnb can add value to your listing and help distinguish it from other listings. It adds an extra touch of hospitality to your rental, helping to enhance the guest experience. It can improve the comfort of your guests. which can go a long way toward making them feel relaxed and at home. This can help give them a home away from home feel and also allows them to save money by being able to enjoy a hot cup of coffee without having to purchase one outside. 
Lastly, providing this amenity will likely earn more positive reviews for your listing since it's an item many travelers want and expect when staying in an Airbnb.
Types of Coffee Makers
Different coffee makers can be great for Airbnbs, including automatic drip coffee maker machines, manual pour-over machines, French presses, and single-serve makers. Depending on your needs and budget, you can find models with easy cleaning, energy efficiency, programmability, and temperature control.
How to Choose the Best Coffee Maker for Your Airbnb?
Whether you choose a drip coffee pot or Keurig, when selecting a coffee maker for an Airbnb, it's important to pick one that is easy to use, efficient, and versatile. You'll want to consider size, price, and convenience. A good coffee maker should have multiple brewing options, automatic temperature settings, and be able to handle multiple cups of coffee at once. Additionally, if you're expecting multiple guests per stay, you should opt for a machine that can brew many cups and has a built-in timer that shuts off after each cycle. 
Invest in a quality coffee maker that fits your space and needs. You should also look for a durable model that can handle frequent use without needing repairs or replacement parts. Look for energy efficiency, quick-brewing capabilities, and reliability to determine which machine will best suit your Airbnb's needs. Finally, it's a good idea to research user reviews and compare features and prices between top models to ensure you get the most value out of your investment.
Coffee Accessories for Your Airbnb
Even the best coffee maker needs the right tools to make your guests' experience flawless. To support your favorite coffee maker appliance, you may want to consider getting a coffee grinder, french press, or pour-over coffee maker and kettle. Some coffee lovers may prefer to make their coffee using this style of coffee making. This will ensure you cover all basis and guests' tastes. A good option for a pour-over coffee maker is the Cosori Pour-Over Coffee Maker. For a French press, I recommend this Bodum Java French Press Coffee Maker.
To make sure that the coffee experience in your Airbnb is well-rounded, you'll also want to stock up on filters, spoons, travel mugs, coffee mugs, an assortment of non-dairy and dairy creamers, stirrers, sugar, and possibly a milk frother, and other materials needed for making and serving the perfect cup of coffee. It's also a nice touch and best practice to provide your guests with complimentary ground coffee, coffee beans, coffee pods, and teas.
Lastly, creating a coffee bar or a dedicated coffee station on the counter may be a good idea to store and display your coffee maker and accessories. Your guests will love this idea and appreciate you for it. 
How to Clean a Coffee Maker
It is vital that your coffee maker gets cleaned regularly. Cleaning a coffee maker for Airbnb guests is an important part of ensuring their stay is comfortable and enjoyable. Regular cleaning will not only prevent any unpleasant odors from lingering but also ensures that your machine will keep working smoothly in the long run. 
To ensure the highest level of sanitation and get rid of any buildup, periodically clean all surfaces of your coffee maker with warm soapy water and a non-abrasive cloth. Then, using vinegar and water, fill the reservoir and brew until the vinegar flavor is gone before giving it one final rinse with plain water.
I hope you have found this article useful. The right coffee maker can significantly impact a guest's stay. So do yourself a favor and grab the best coffee maker that money can buy for your Airbnb and Vacation Rentals.
Other Airbnb hosting ideas you might like:
Please comment below to let me know what you think of this article. Feel free also to follow me on my social media pages – Pinterest and Instagram or subscribe to my mailing list for other design inspiration, DIY projects, and home decor ideas.
Tamara White is the creator and founder of The Thrifty Apartment, a home decor and DIY blog that focuses on affordable and budget-friendly home decorating ideas and projects. Tamara documents her home improvement journey, love of thrifting, tips for space optimization, and creating beautiful spaces.