When it comes to furnishing your Airbnb rental, nothing beats a comfortable couch! Choosing the right sofa for your guests is key when setting up your Airbnb home. While there is no perfect couch, the best couch could strike a good balance between practicality and visual appeal.
A couch could singlehandedly be one of the most expensive pieces of furniture you buy for your short-term rental properties and mid-term rentals. Thankfully, there are affordable options available that are both well-made and durable. From traditional to modern designs, you can find the ideal sofa for any aesthetic or budget.
Whether it's a sectional, loveseat, or sleeper sofa, your guests will be pleasantly surprised by the comfort and style of the furniture featured in your rental home. Here are some of the best couches on the market to add a bit of comfort and style to your vacation home. All for under $1200.
This post may contain affiliate links, which means I will earn a small commission if you purchase through my link. Please see the full disclosure and privacy policy for more information.
Top Picks for Affordable Couches 
Here is a quick look at the best budget couches
Best Couch for Airbnb
This Rivet Revolve modern sectional sofa is an excellent buy for your vacation rental. It has a simple, minimalist design with square armrests, a hardwood frame, and tall tapered legs, which are suitable for any decor style.
Plus, the chaise can be moved to either end of the couch, providing an extra seat if needed. With multiple colors, such as green, beige, or denim – you'll be sure to find one that perfectly matches the living space!'
With this couch, minimalism and functionality don't look boring. Prices start at $650 and vary by color. There's even a modern mid-century version that will wow your guests.
The Esright Mid-Century Modern Couch is crafted with a combination of classic and modern styles. The velvet fabric feels extremely soft to the touch and oozes elegance. It also comes with removable back cushions, making it ideal as a sofa bed for napping.
It is classic yet modern and works great for both family leisure time and entertaining guests. Its soft and warm material is easy to clean, and its unique design will effortlessly complement any minimalist and cozy living room.
Available in two colors – green and saddle brown starting at $379. 
If your vacation rental is pet-friendly, opting for a leather couch is ideal. Leather couches are durable, often resistant to shedding, and easy to clean, making them the ideal couch to stand up to the wear and tear of a pet. This Rivet Bigelow Leather Couch is affordable yet stylish, offering plenty of space to sit multiple people on the sofa comfortably.
As for aesthetics, the contemporary design features a solid wooden frame, plinth base, and tapered legs that will add a touch of class to whatever room it is placed in. The materials are also high-quality and luxury at an affordable price point; you can snag this fashionable couch for only $959!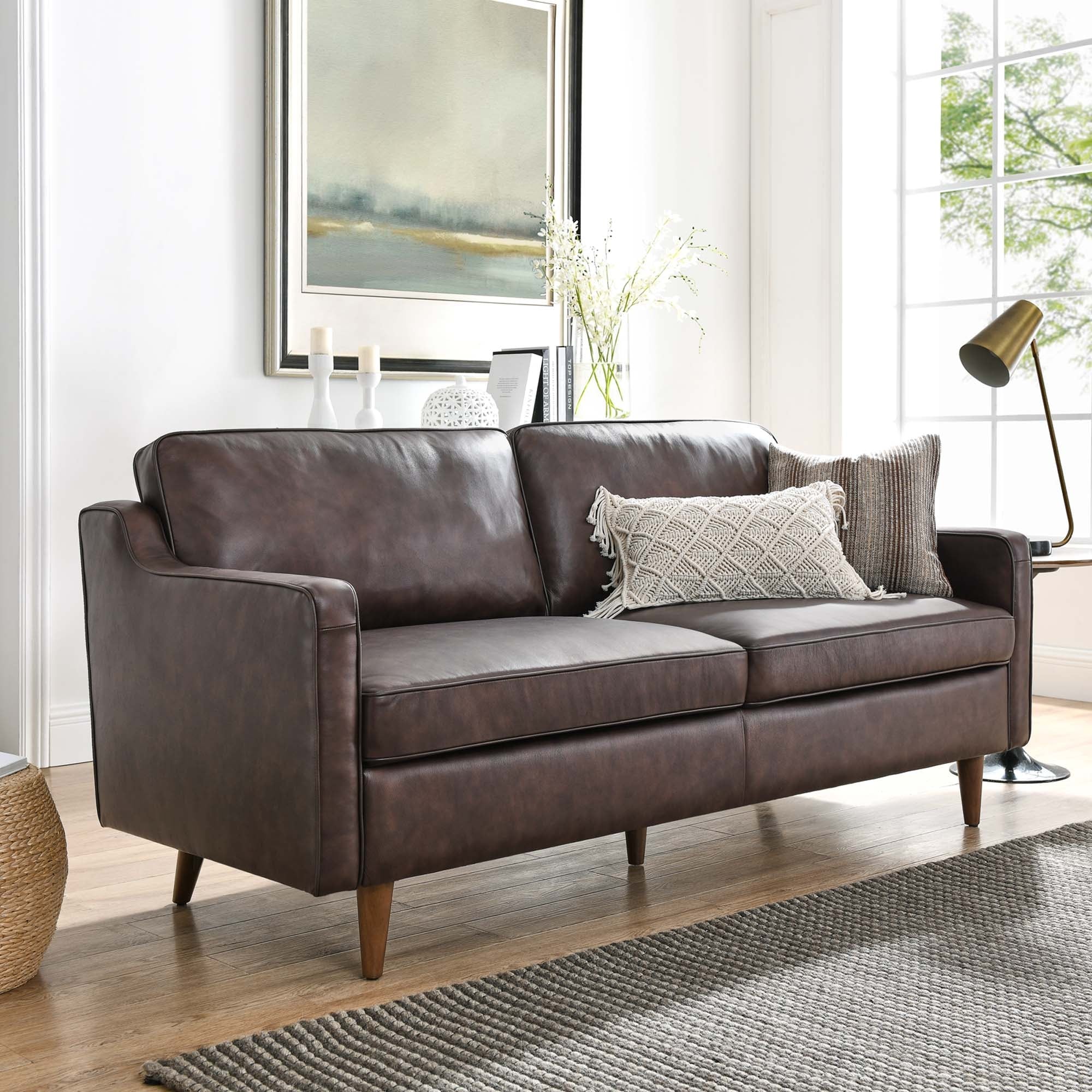 While we are on the topic of leather couches, here's another one that is great for a vacation rental.  The Impart Mid Century Modern Leather Sofa is a budget-friendly couch that offers a stylish and modern look that will impress. Its sturdy rubberwood frame, spring coil support system, and dense foam padding provide maximum comfort.
The leather upholstery in either tan or brown top-grain leather will feel luxurious with its buttery softness. It's easy to see why this is one of the best sofa for Airbnb and the perfect choice for any Airbnb rental! It is currently priced at $949.
This sectional sofa provides the perfect combination of comfort and style for an Airbnb. An extra wide chaise lounge can comfortably seat up to 5 people.
The velvet fabric is ultra-soft and durable, with plush foam seat cushions for added comfort. It features gold legs that add a pop of color. With its contemporary look, it can add character to any room, offering both comfort and style. Prices start at $761 and vary by color.
Consider this modern futon – stylish, easy to use, and durable enough to withstand frequent guests. It features a mid-century modern design. It comes in over ten bold yet tasteful colors ranging from mustard, blue, and green.
Thanks to its fold-out design, it offers both seating and sleeping options, eliminating the need to buy an additional pull-out couch. What's more, it's shipped right to your doorstep and requires minimal setup – making for a quick and convenient upgrade to any space! Not to mention, the upholstery wipes clean easily. Prices range from $279 and up.
The Lilola Home Lucca sectional sofa is perfect for any Airbnb setup. It blends modern design and quality materials to provide a stylish look. This charming piece of furniture will make a great first impression, featuring a modern-themed finish made from durable materials.
This convertible sofa sectional is highly functional as it transitions into a pull-out bed and a chaise to have additional storage space and sleeping space for your rental. It comes in three different colors – green, grey, and yellow. Prices start at $520 but vary by color.
The Mellow Hana sofa features a timeless modern design that's just the right size for smaller vacation rentals. With its Eucalyptus wood frames and legs, foam cushions, and storage pockets, this couch brings sturdy support and sophistication to any room.
Plus, it sets up easily in just five tool-free steps — making it a good choice for busy Airbnb hosts who need chic furniture fast. It is currently on sale for $350, but prices typically start at $580.
The Mayview Carraway Upholstered Square Arm Sofa is ideal for a small apartment or short-term rental property. It is firm yet comfortable, with clean, classic lines to fit any room decor.
Choose from seven gorgeous colors, including sleek faux leather in timeless black to camel faux leather or green velvet.
It's stylish yet affordable, with prices starting at $273. Its contemporary style makes it an excellent fit for any room.
Gap Home Upholstered Sofa
This timeless sofa offers both style and comfort with linen-inspired fabric, matching throw pillows, extra soft foam fill, and an exposed wood base that adds warmth to any room.
It's available in three neutral colors – gray, navy, and oat. This classic piece of furniture will complement Airbnb's design. Starting around $500
For an elegant and timeless addition to your Airbnb, consider the Bowie Sofa from Christopher Knight Home. This stylish couch is constructed from birch wood and boasts channel-tufted seating and nailhead trim for extra glamor.
The foam fill ensures this piece is as comfortable as it is attractive, while the velvet upholstery offers a range of colors, including black, blush, taupe, sage, and teal. It is on sale now for $695. 
Factors to Consider When Choosing a Couch
Whether it be style, comfort, durability, or budget, there are a few factors to consider before selecting the perfect piece of furniture.
Choose a Durable Fabric 
Look for dense, tough fabrics when purchasing a couch for an Airbnb rental. Choosing a material that can withstand frequent use and cleaning is important. Fabrics such as leather, linen, microfiber, velvet, or polyester blends are easy to clean and maintain over time.
The couch will get used frequently, and accidents (like juice spills and food stains) will likely happen, so having a sofa that can withstand frequent wear and tear is ideal. Look for couches made with materials that can be easily wiped down so that it is easy to clean up any spills.
Prioritize Comfort 
Even though the couch's aesthetic is important for your property's style, your main goal should be to provide comfort for your target guests. When shopping for a new couch, prioritize comfort over everything else. Consider purchasing couches with deep seats and cushioned backs, giving your guests more space to relax during their stay.
If you need more sleeping accommodations and want to maximize space, consider adding a pull-out sleeper sofa to the living room to accommodate additional guests. This will also allow you to charge an increased nightly fee for extra guests.
Size Matters 
It's important to consider the layout, floor plan, and size of your Airbnb home before purchasing a couch. If your living room is long and narrow, opt for a smaller sectional or loveseat rather than an oversized sofa. Similarly, if you rent a larger space, such as a family room or vacation home, choose furniture that can accommodate several guests comfortably.
The right size couch can make or break your guest's experience. A sofa that's too big can overtake a room, make it feel cramped, and appear smaller than it actually is. On the other hand, a couch that's too small won't provide enough space for your guests to relax or lounge with their families and friends.
Measure the available area before making any purchase to ensure you get just the right-sized couch appropriate for your space. A rule of thumb is to have just enough couch seating for a maximum number of Airbnb guests that your rental can accommodate.
Aesthetics
When choosing a couch for your rental, make sure the color pairs well with the design theme and color scheme you are going for. Neutral colors such as grey or beige are great options that pair well with most décor themes and modern or contemporary styles.
For something more eye-catching, patterns work very well in certain rooms but may be too overwhelming if used across an entire couch.
Why do you need a couch in your vacation rental?
A couch is a requirement in a vacation home. It is also a guest's expectation. A well-chosen couch can act as the centerpiece of any room and draw visitors in, creating an atmosphere of comfort and relaxation.
Having a couch in your vacation rental is an excellent way to create an inviting atmosphere, adding warmth and comfort to the space. In addition, a good couch can help complete the decor of the vacation rental, making it more attractive to potential guests.
Not only does a quality couch add practical seating to your place, but it also offers a place for everyone to gather and watch TV, accommodating overnight quests, or just as a place for people to relax after a day of sightseeing.
How much money should you spend on a couch for your Airbnb?
When it comes to furnishing your Airbnb, it's all about investing in a good-quality couch that's comfortable, durable, and fits right into your space. Depending on the size of your rental space and the look you're going for, you can expect to spend anywhere from a few hundred dollars up to thousands of dollars on the high-end piece.
However, our guide provides couches ranging from $ 200 to under $1000, so you shouldn't have much difficulty finding something to fit your needs and your price range.
Can you buy a used couch for an Airbnb?
If you're looking to save money on furnishing your Airbnb vacation rentals, buying used furniture for cheap is one way to do it. A lightly used couch is an economical option; buying it used is a great way to get it at affordable prices.
It is important to select one with no visible rips, tears, major stains, and odors as these flaws will only worsen with time. So it's important to do your research and ask lots of questions from the seller. You want to know about the age of the couch, if the owner was a smoker or not, whether there were pets in the home, etc. The last thing you want is a smelly couch that can impact guests with sensitive smells.
You can find used couches on places like Offer Up and Facebook Marketplace! You can even take your chances at local flea markets or garage sales. Buying a used couch is an affordable way to furnish your rental property. Just make sure you inspect the purchases thoroughly before buying them for your Airbnb property.
Choosing the right couch for your Airbnb listing can give a lasting impression of your space, so it's important that you choose wisely. Pick a couch that can appeal to different guests or your ideal guests.
Other Airbnb hosting ideas you might like:
Please comment below to let me know what you think of this article. Follow me on my social media pages – Pinterest and Instagram or subscribe to my mailing list for other design inspiration, DIY projects, and home decor ideas.
Tamara White is the creator and founder of The Thrifty Apartment, a home decor and DIY blog that focuses on affordable and budget-friendly home decorating ideas and projects. Tamara documents her home improvement journey, love of thrifting, tips for space optimization, and creating beautiful spaces.