Shopping for the right mattress can be overwhelming as so many options are on the market. When buying a mattress to host guests, you want to ensure that it can provide them with comfort and support throughout their stay. People spend up to one-third of their lives sleeping, so having the best mattress will help ensure your guests have a good night's sleep and wake up refreshed every morning.
With that in mind, you don't have to overspend and splurge on an expensive mattress to please your guests. Ensuring that the mattress offers maximum comfort and sufficient support for your guests should always be a priority, but you don't have to sacrifice your budget to do so.
A variety of mattresses are available for a reasonable price that uses good construction materials and offers the same high-quality features as premium luxury brands. In this guide, we'll discuss some of the best mattresses for Airbnb under $500 and other factors you should consider before purchasing.

This post may contain affiliate links, which means I will earn a small commission if you purchase through my link. Please see the full disclosure and privacy policy for more information.
Top Mattress Picks for Airbnb
Here is a quick look at the best mattresses for Airbnb:
Best Mattress for Airbnb
Olee Sleep 10 Inch Mattress Hybrid Mattress is the perfect choice for an Airbnb because the mattress has five layers that enhance its quality and comfort. Its contoured support and independently-encased coils not only provide a balanced weight distribution to reduce pressure points but it also prevents any motion disturbance from occurring. Moreover, it is wrapped and quilted with a very soft and durable poly jacquard cover.
I use this mattress in one of my vacation rentals, and my guests love it. One guest wrote, "Everything in the house was comfortable and cozy, including the three beds." This was enough to inform us that the mattress was doing its job. You can't go wrong with this mattress. Overall it is a good quality mattress and a good brand.
This mattress retails anywhere from $180 – $275 and is shipped in a box from the manufacturer. While this particular mattress does not come in a king size, you can opt for their sister mattress, the Olee Sleep Aquarius 10-Inch Memory Foam Mattress.
Buy on Amazon
The Linenspa 10" Memory Foam and Innerspring Hybrid mattress offers a medium feel that is – not too soft or hard. It combines the best of both worlds with a thick layer of memory foam to give your guests comfort and support.
It is perfect for guests of all body types and has 6 inches of high-quality springs to align your spine. It is also compressed and rolled in a box for easy delivery and setup. Best of all, it comes with a 10-year warranty making it one of the best mattress for short term rentals.
Buy on Amazon
The Lucid 12-Inch Bamboo Charcoal and Aloe Vera Hybrid Mattress is the perfect choice for an Airbnb host looking to give their guests a mattress that is comfortable, breathable, and won't break the bank. This mattress combines bamboo charcoal, which helps to ward off odors, with a self-ventilating design that cools as you sleep.
This mattress is designed with a balanced combination of firmness and plushness, all topped off with a classy circular knit cover. If you're searching for the best affordable mattress for your Airbnb rentals, this mattress won't disappoint! It offers a balance between budget and a quality sleep experience.
The queen-size lucid mattress starts at around $469.
Buy on Amazon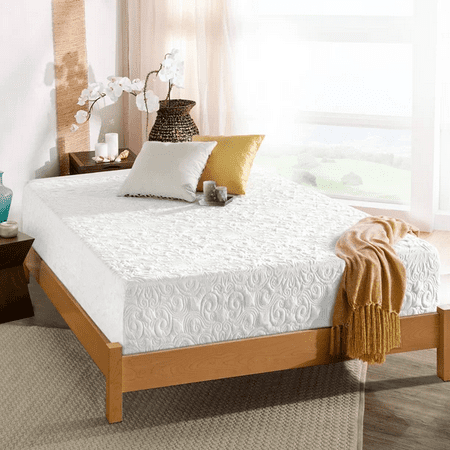 The Spa Sensations by Zinus 12″ Serenity Memory Foam Mattress is an excellent choice for vacation rentals. It has a top layer of memory foam that contours your body, relieving pressure points and helping you relax. It also comes in four other mattress heights – 6, 8, 10, and 12 inches.
We have this particular bed in one of our properties, and one guest wrote in a public review that "The beds, pillows & comforters were extremely comfortable!"
When choosing a mattress for your Airbnb rental, memory foam is a good option. It is affordable, long-lasting, and comfortable. They are particularly well suited for side sleepers and couples who share a bed due to their contouring, motion isolation, and generally comfortable design.
The pricing range from $249- $400. Plus, it has a 10-year warranty and can be returned within 100 days should you change your mind. Overall it is an excellent mattress with a good balance of value and comfort.
Buy on Walmart
If you like the Zinus brand and looking for something a bit firmer, then the Zinus 12″ Green Tea Memory Foam Mattress is an excellent option. Many Airbnb Superhosts praise this one, and I must admit that we love it too.
Its antioxidant-rich green tea keeps the mattress fresh, while ActivCharcoal microparticles block moisture and odors. The foams provide support and alignment to your spine and have open-air pockets in the middle layer to help promote airflow.
To top it off, it is backed with a 10-year worry-free warranty, ensuring that any issues with it can be addressed quickly and easily. With the sleep-enhancing qualities of natural ingredients, this plush mattress is ideal for a comfortable and restful stay! No wonder it is a top pick for many Airbnb hosts.
Pricing starts at around $254 and up.
Buy on Amazon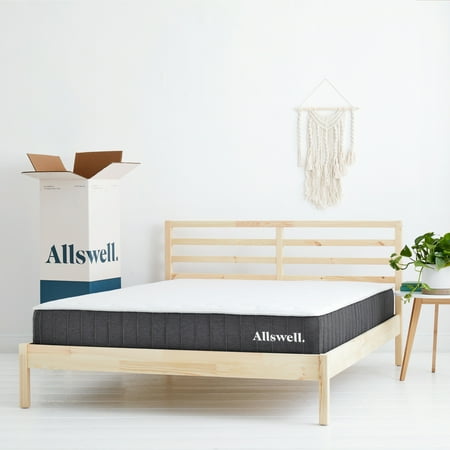 The Allswell 10-inch Bed in a Box Hybrid Mattress is a good option for vacation rentals. It features individually wrapped coils that help minimize motion transfer and a layer of copper gel-infused memory foam that absorbs and transfers heat away from the body.
The mattress also has edge support around its perimeter, making it easy to do all your bedtime activities. Additionally, with its 10-inch height, this mattress provides high-end comfort without breaking the bank.
This hybrid is a great choice for Airbnb hosts looking for the perfect mattress. Hybrid mattresses offer excellent support and comfort that can appeal to all sleepers, regardless of their preferred sleeping position. They are made with springs and foam to provide superior pressure relief and contouring for superior comfort and support.
Starting price for queen size is $349 and up.
Buy on Walmart
For Airbnb hosts looking for the perfect mattress to provide guests with comfortable, restful sleep, the Sleep Innovations Marley 10 Inch Cooling Gel Memory Foam Mattress is an ideal option. This triple-layer mattress combines a top layer of cooling gel memory foam and a supportive middle layer with airflow channels to offer superior comfort and support. The hypoallergenic cover and robust base ensure lasting durability.
Memory foam provides pressure point relief and motion-reducing properties; ideal for any sleep position. Plus, the Marley Mattress arrives in a vacuum-sealed bag and expands quickly – making for a quick setup. It is an absolute bargain!
The price for a standard queen-sized bed starts at around $299.
Buy on Amazon
Novilla's 10-inch memory foam mattress is the perfect option for an Airbnb rental. It has multiple layers of foam that offer superior motion isolation and contour to your body for maximum comfort. Additionally, it's infused with cooling gel to further enhance cooling and provide the perfect level of support.
Further, it boasts a hypoallergenic rayon cover that provides a soft touch and is certified with CertiPUR-US Certified foam, making it safe from formaldehyde and other harmful off-gassing materials. With all these features combined, the Novilla 10-inch memory foam mattress will surely deliver the best value for your budget.
A standard queen size starts at $286.
Buy on Novilla
Buy on Amazon
Factors to Consider When Shopping for an Airbnb Mattress
Not all mattresses are equally suitable for Airbnb or short-term rentals. It is unlikely that you will make every guest happy, but the goal is to strive and make the most of them comfortable. Some factors you should take into account when selecting the best mattress for vacation rental include the following:
Price – Unless you have a bottomless bank account, then the price will always matter when making such a large purchase for your mid-term and short term rental properties. While you don't have to break the bank or splash out thousands of dollars on a mattress, it's important to invest in a good quality mattress that is both comfortable, durable, and affordable. Many great mattresses are available at various price points that will still give your guests great comfort and a good night's sleep.
Durability – Airbnb hosts should look for mattresses with superior durability and long-term quality when shopping for the best mattress for their rental. As different guests use the mattress on a regular basis, it's important for it to not only remain comfortable but also retain its original condition over time. You want to make sure you have a mattress that won't sag or become damaged after a few uses.
Firmness Level – When finding the perfect mattress for Airbnb vacation rentals, aim for one that will please a majority of tenants. The idea is to find a mattress that's not too hard or soft – but something in the middle and provides a comfortable sleep experience for most people.
Contouring – A mattress that has moderate contouring will be comfortable for most guests without feeling too soft or too firm, making it a great all-around choice.
Warranty coverage or trial periods – Look for a mattress that has an extended warranty or trial period, so if guests don't like it or there is a defect or major damage, you will have the option of returning or exchanging it. Make sure that there are no special terms covering mattresses used in commercial settings and that any applicable warranty claims are reasonable and within your budget. Taking these precautionary steps will ensure you have a product that will last.
Size – When purchasing a mattress for your Airbnb, size matters. Most people prefer queen or king-size beds. However, a twin- or full-sized mattress offers plenty of space for children or solo travelers, and queen and king beds provide enough room for couples or larger groups.
Ease of Shipping and Setup – You want to ensure it is easy to transport and set up. Most online mattress vendors offer free ground shipping, so you don't have to worry about transporting a bulky mattress. Two people may be required to bring the mattress in and set it up correctly, but some companies offer White Glove delivery, where a technician comes directly to your home and take care of bed installation as well as remove the old mattress (if necessary).
Long-Term Use – With guests constantly checking in and out, it's important to invest in a mattress that can stand the test of time. Be sure to do periodic checks on your mattress by lying in it for at least 10-15 minutes to ensure no signs of premature sagging or other deformation.
Motion Isolation – Mattresses with thick comfort layers are typically best at minimizing motion transfer when someone moves in bed. Similarly, hybrid mattresses that incorporate pocketed coils also help to limit movement across the sleeping surface and make for a more restful sleep. You'll want one that won't disrupt sleep when someone moves in bed.
Temperature Regulation – Choose a mattress made of breathable, ventilated fabric and cooling layers that will allow air to flow through easily and keep the sleeper's body temperature regulated and cool during the night.
Once you know your key criteria, you can narrow down the selection process to make choosing a mattress even easier! Take the time to properly research, compare pricing and read customer reviews to help you find the best mattress for your Airbnb.
What are the different types of materials used in mattresses?
Foam – All-foam mattresses are built with layers of polyfoam, memory foam, and latex and offer superior pressure relief compared to other models. Memory foam mattresses are also more affordable than different types of mattresses, making them a good option for those looking for a quality mattress without breaking the bank. Foam mattresses provide great back support due to their contouring properties, but they are also noiseless, which is great for those guests who want to sleep without disturbance.
Hybrid – Hybrid mattresses feature a support core of innerspring coils and an ample comfort system made of foam or other like materials. Throughout the night, these features work together to provide stability, dependability, superior support, and comfort for guests. Hybrid mattresses offer broad appeal for all sleepers, making them a perfect fit for a cozy guest room.
Innerspring – Innerspring don't score very high regarding comfort and pressure relief, but they are a great option for rental property owners looking to keep costs down. You can add a mattress topper to make it more comfortable and contouring.
Latex – Latex mattresses combine responsive comfort with outstanding durability. The material is made of natural tree sap or synthetic latex and is designed to provide support while relieving pressure to ensure a good night's sleep.
What type of mattress do my guests prefer?
Shopping for the best mattress for short term rental guests can be tricky. What might be perfect for you may not be what other people seek. When selecting a mattress, look for one that will appeal to various sleepers, such as a medium-firm mattress with plenty of contouring and good breathability. That way, different types of people will have more pleasant sleeping experiences on the same bed!
Most importantly, you'll want to find a mattress that meets your budget and comfort requirements. You'll want to strike a balance between comfort and affordability. This way, most guests will be happy with their stay, and you won't be putting too much strain on your budget!
Consider the demographic you serve: will there be families or young partygoers? Consider how quickly the mattress may wear due to activities like going to the beach and bringing back sand. When selecting a mattress, look at what type best suits your rental's unique style so that it appeals to your desired guests.
Choose a mattress that fits most people's unique sleeping preferences and needs.
Should I use a mattress topper?
The short answer is it depends. Adding mattress toppers to your Airbnb mattress can increase the bed's comfort, support, and longevity. Mattress toppers come in various materials, such as memory foam, latex, and wool.
They provide extra cushioning while protecting against allergens, dust mites, and other irritants affecting sleep quality. Mattress toppers are an investment that can offer many benefits to your guests – such as better sleep – over the long term. However, some mattresses already come fully cushioned and comfy.
Is a mattress protector needed for the Airbnb mattress?
Absolutely! A mattress protector is an important step in ensuring your mattress lasts longer and remains clean and fresh for each new guest. A mattress protector can help protect against damage from spills or stains.
Is a box spring required for the mattress?
Depending on your mattress type, a box spring may or may not be necessary. Innerspring mattresses and hybrid mattresses generally require the support of a box spring. But foam, latex, and air mattresses can easily be supported with a platform bed frame or another solid orthopedic foundation. Most platform-style beds do not require a boxspring underneath the mattress.
Choosing the right mattress for your Airbnb can give a lasting impression of your space, so it's important that you choose wisely. The best Airbnb mattresses will appeal to most guests. With this in mind, you'll be able to find the best Airbnb mattresses without breaking the bank.
Other Airbnb hosting ideas you might like:
Please comment below to let me know what you think of this article. Feel free also to follow me on my social media pages – Pinterest and Instagram or subscribe to my mailing list for other design inspiration, DIY projects, and home decor ideas.
Tamara White is the creator and founder of The Thrifty Apartment, a home decor and DIY blog that focuses on affordable and budget-friendly home decorating ideas and projects. Tamara documents her home improvement journey, love of thrifting, tips for space optimization, and creating beautiful spaces.